The last time the UK lived through a pandemic was 1918, we had no internet, no TV and radio was still four years away. As the 2020 pandemic hit, nobody really knew how to navigate the marketing landscape and with the need for timely mass communication, organisations acted fast through a number of reactive and robust strategies.
Throughout this article we look how local councils have steered their way through the last 10 months and how communications can be targeted effectively throughout the new national lockdown.
Radio
Radio excels in a crisis. The medium is consistently found to be among the most trusted sources of news and information with 77% of audiences trusting radio more than any other media.
Timely information has never been more valued. With commercial media being the first port of call for the isolating public, radio has become something of significant value. Throughout the past year, commercial radio stations commitment to up to date coverage has increased both in frequency and duration, and with more coverage available to audiences than ever before, listeners have increased to nearly 36 million.
Communicorp UK has delivered strategically placed messaging to its 3.2 million listeners for the English, Welsh and Scottish Government throughout the pandemic. With reactive information placed in prime national advertising spots, the government have been able to reach communities with a quick and responsive turnaround.
Further to this, local councils across the UK have released their own local messaging to drill down into areas in each region. Whilst the government tier system was still active, localised and area specific messaging was broadcast to towns and cities across the UK, again providing concise and useful alerts to the public.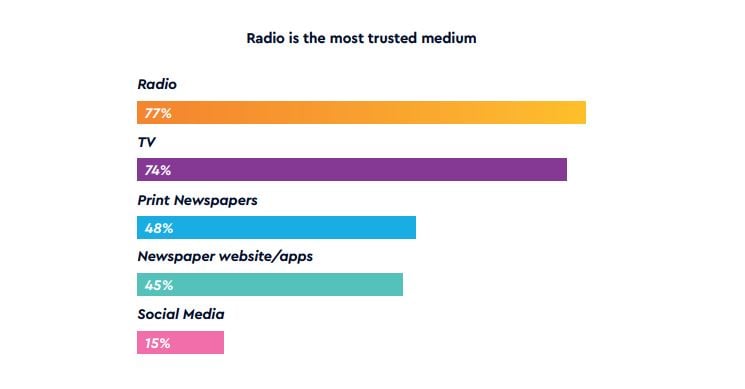 Source: https://www.radiocentre.org/wp-content/uploads/2020/07/Commercial-radio-A-force-for-good-July-2020-2.pdf
Digital Out of Home
The use of digital out of home technology (or DOOH) really came into its own throughout 2020. The need for time sensitive, attention grabbing messaging was in high demand and GOMO Digital, our out of home advertising agency, stepped up to the mark by deploying a fleet of unmissable, targeted iVans up and down the country.
Local councils across the UK needed to find a way to target customers who would not usually consume traditional digital channels such as social media. Our striking, 3 LED screen iVans were parked in areas of high footfall including, supermarkets, retail parks and public walking spots delivering messaging to the public as they undertook daily exercise or essential shopping.
The screens displayed content often stating government guidelines, with Bradford Council even opting to record their messaging in up to 20 languages and play the audio from the moving van.
Each van can record the footfall and demographic in the chosen area, allowing the organisation using the screens to make informed decisions on future campaigns.
For organisations that wanted to access even harder to reach areas, they used the iWalker. iWalker technology enables messaging to move with its chosen demographic. Unlike static media, its clever wearable design with facial detection delivers the right content to the right people, where other media would not usually reach.
The Brand Ambassadors wearing the technology remained within government guidelines by wearing a mask and staying two metres away from the public. Not only did the screens strike up a talking point, but they also gave that small but friendly bit of human interaction that many craved throughout the pandemic.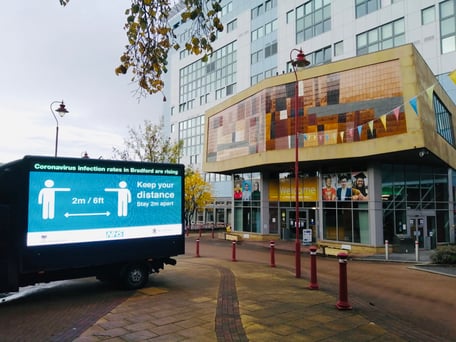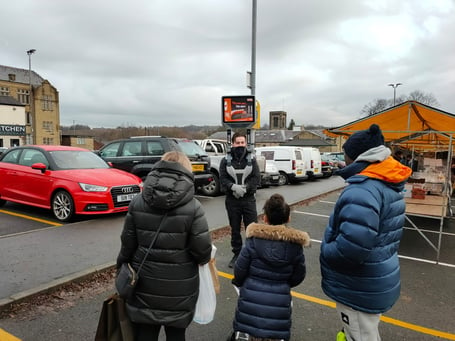 Voice
It is not only radio listening that has risen during lockdown - people are both listening and showing more interest in making podcasts.
According to the recent RAJAR Midas Survey, listenership has risen significantly compared to 2019. 10.1 million people now listen to podcasts each week, a 24% increase on the previous Spring. This sharp rise in listeners equates to 59 million hours of listening each week, up from 3 million previously.
The NHS have recently took advantage of the rising popularity of podcasting by providing a staff wellbeing programme through the voice channel. Be Kind To Your Mind is a series for the NHS and councils in Cheshire & Merseyside aimed at helping keyworkers, their families and the wider general public build resilience through lockdown and beyond. Produced by Voiceworks, guests have included footballer Andy Cole, gymnast Beth Tweddle and BBC's Dr Rangan Chatterjee.
Click here, to find out more about how Communicorp UK can help your organisations reach new audiences around the UK or speak to one of our Account Managers to see how we can maximise your communication strategy for 2021.